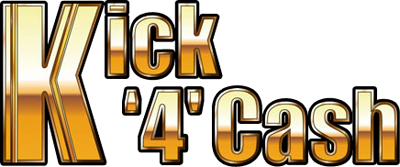 Kick '4' Cash
Kick 4 Cash est hébergé dans l'armoire vidéo CashCube SWP et teste les compétences des joueurs lors des coups francs. Les joueurs ont la possibilité à chaque étape de choisir le gain d'argent optimal par rapport au risque. Un coup réussi ajoutera un bonus de but en argent à leur cagnotte. Les coups francs progressifs auront de plus grandes récompenses permettant au joueur d'atteindre 40 £ en dix buts.
La machine est contrôlée par un trackball pour la puissance et la direction, et le joueur doit juger de la gravité et de la courbe de la balle. Si le joueur tourne trop vite, le ballon peut voler au-dessus de la barre, et s'il frappe trop lentement, le gardien peut sauver. Les fonctionnalités incluent une chance bonus, qui permet au joueur de jouer un joker sur un objectif difficile - il peut choisir de doubler sa victoire, d'obtenir une seconde chance ou de réduire de moitié la taille des défenseurs.
Médias
Hash
Filename
Hashes
kick4csh
CRC32
SHA1
MD5
4bfa0229
c435a308d4d4a7ba107755ddbd18f37aee652fa5
cbe160a56896c2fce44b6c3ce4dc64e1
Add medias to this Game
Other games
Informations
Resolution
Resolutions must match the following format:
[H.Res.]x[V.Res.] [V.Freq.]
Examples:
320x224 50.12
1280x720 60
286x228 59.1245

Language
You want to help the community ?
All the medias were created by the HFSPlay community. We are always looking for help to create quality content.