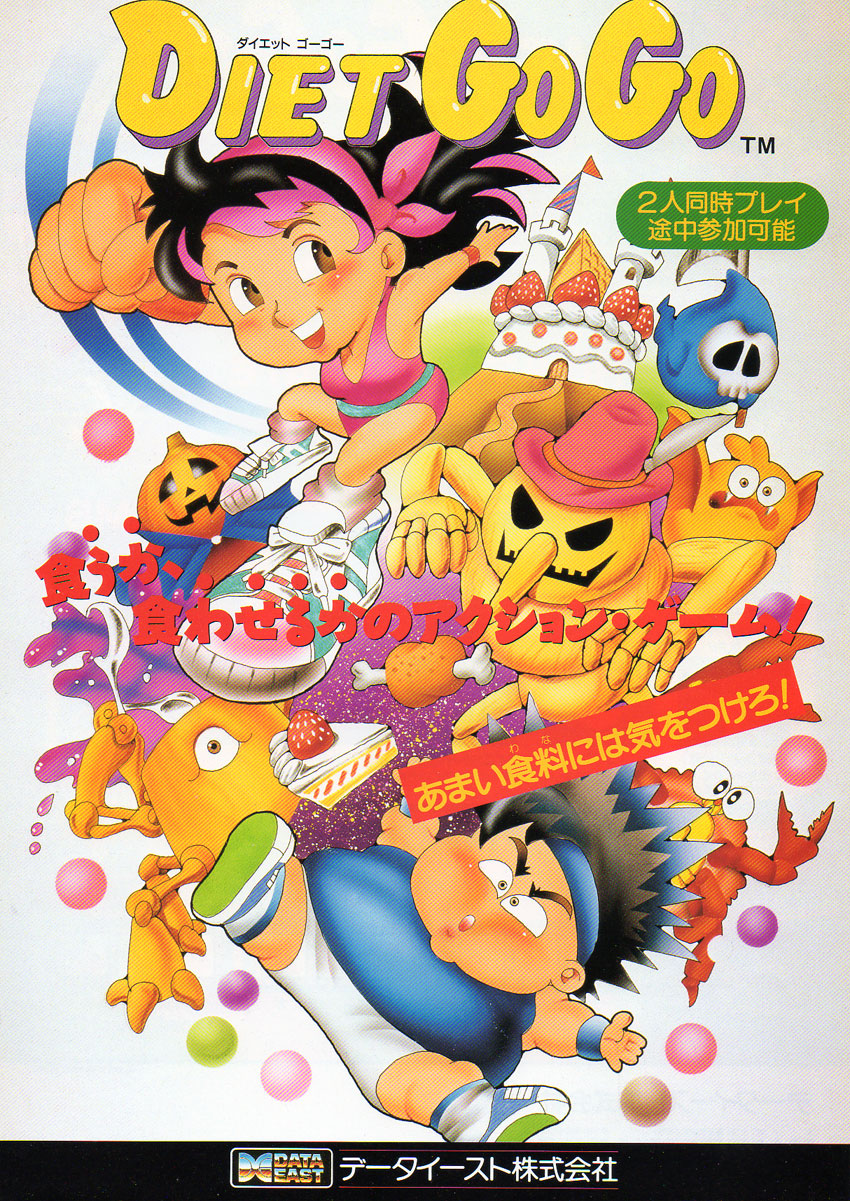 Diet Go Go
Diet Go Go is a single-screen platform game for one or two players, in which the aim is to clear each screen of monsters and avoid getting fat. Monsters are defeated by throwing food at them until they inflate (get fat), then touching them to burst them, sending them flying around the screen and killing any other monsters they come into contact with. Many monsters also throw food at the players, making them increasingly fat. If players get too fat, they lose a life, although bonus diet sodas occasionally appear and can be picked up to reverse the effect. Contact with monsters who aren't fully inflated is fatal.
When monsters are destroyed, they leave behind rings, gems, power-ups and diet tonic. Power-ups include roller-skates to move faster, compressed air to blow monsters up and increased fire power. Data East coins also appear on each level. If players collect these coins, they shoot up to the top of the screen where a fruit machine display rolls over and dispenses gems, power-ups and rings. If the fruit machine reads 777, a bonus round appears in which players jump on clouds to collect falling gems while avoiding the falling food that will make them fat.
The game starts with one player selecting an area on a world map, then progresses through two levels of play to reach a giant boss on the third round. After the boss is destroyed that world is complete and play moves onto the next. Each world has a different theme and boss.
Médias
Video
Hash
Filename
Hashes
dietgo
CRC32
SHA1
MD5
6734d423
f531c1c6e359c621c868cfeda35687fc2dbd8227
4db25c75af2335632158e23eac1e07f1
dietgoe
CRC32
SHA1
MD5
8fcb325e
f5ea4b10a22c3791855eee1e2366a86ca77d01f2
04ebd443c0bf2dfe8992f8ac6e3a4604
dietgoj
CRC32
SHA1
MD5
b5ff8f02
e8774644ac6a64f1574b9d14045e13a4af25fc68
4f9ff0dfa790e8d0e219a9aee88dd31d
dietgou
CRC32
SHA1
MD5
b69725cf
717181452675e0255f6e027a0f9af7e7bf96ccde
bbeb5b5c0a3701b700e8c93ef41b2ebf
Add medias to this Game
Other games
Informations
Resolution
Resolutions must match the following format:
[H.Res.]x[V.Res.] [V.Freq.]
Examples:
320x224 50.12
1280x720 60
286x228 59.1245

Language
You want to help the community ?
All the medias were created by the HFSPlay community. We are always looking for help to create quality content.