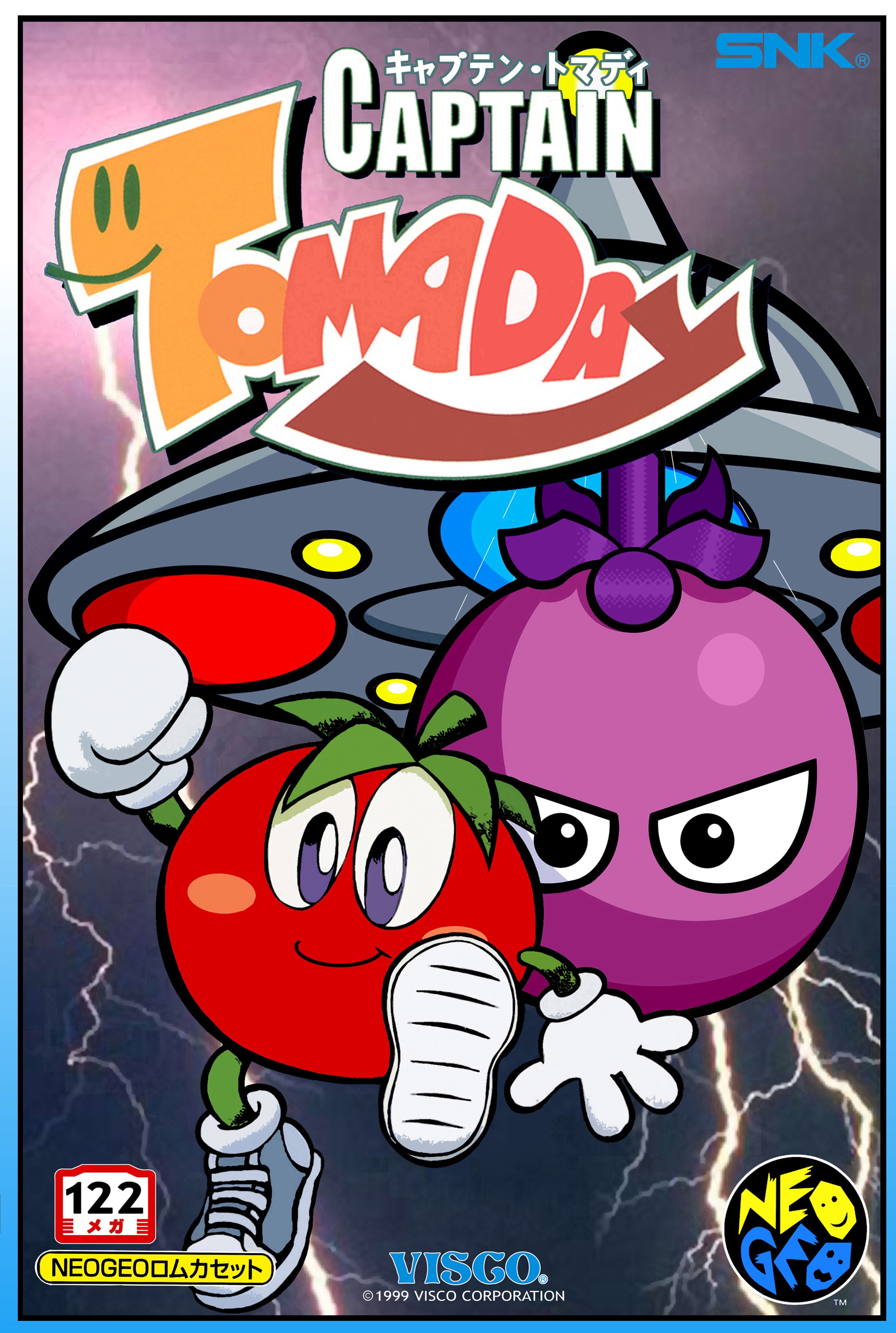 Captain Tomaday
3
On a dark and stormy night, a mad botanist is doing a bit of research in his laboratory, when a tomato plant near some chemicals drops a tomato into a beaker.
The beaker explodes, and out comes a tomato with a face and limbs that says "MUTATE!" The scientist, covered in soot and ash, gives the new tomato a tired expression, as if he feels he is getting too old for this stuff.
The tomato then runs off to stop the forces of evil eggplant aliens, under the name Captain Tomaday! The titular tomato must traverse five levels that have baddies coming in all sorts of waves.
However, what sets Captain Tomaday apart from most shooters is its method of attacking. The A button makes Tomaday's left fist shoot, and the B button makes his right fist shoot. Both fists can be fired simultaneously or one at a time.
Attacking with one fist for a while makes the other grow in size and power, eventually turning Tomaday's other first into a 1-ton weight which does more damage than the usual fist.
Tomaday's fists return to him as soon as they hit something, and this creates a risk vs. reward factor in taking risks and getting close to an enemy to take them out quicker versus taking them out from a distance even if it will take longer.
Médias
Hash
Filename
Hashes
ctomaday
CRC32
SHA1
MD5
35fed31c
7f09099d7ccd161c97ad6d2b0f5ca474d1133e4b
5d5afe2d3a58ae331580178e54d02d6f
ctomaday
CRC32
SHA1
MD5
37625dd0
caa4335fabe44e08897d7745d0438f9db853838e
2a89a7400b39125453745fa2fcbc39f7
ctomaday.zip
CRC32
SHA1
MD5
a07f2bf8
dd4d03aff7164b2f8d9e1b4eefc75201a550bf95
3c2639b8e0c34f05632b1ba6925646b9
Add medias to this Game
Other games
Informations
Resolution
Resolutions must match the following format:
[H.Res.]x[V.Res.] [V.Freq.]
Examples:
320x224 50.12
1280x720 60
286x228 59.1245

Language
You want to help the community ?
All the medias were created by the HFSPlay community. We are always looking for help to create quality content.