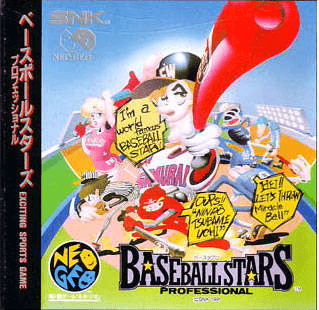 Baseball Stars Professional
Baseball Stars Professional is the follow-up to Baseball Stars for the Nintendo Entertainment System, and features comic-style graphics. Choose from a variety of teams that include Celestial Planets, Heavenly Bodies, Shadow Demons, Battle Knights, Fabulous Superstars, and many others. Then select the field where the game is to be held: The SNK stadium or the SNK dome. Each field has the same dimensions, but their capacity varies. The game is played the same way as normal baseball. Features a VS. mode in which two players can play against each other.
Médias
Hardware
Control panel2
controller
Hash
Filename
Hashes
bstars
CRC32
SHA1
MD5
6adbe281
9ba49d0f931a93497f04730174bbacd73c8721ba
e00d3e4df27bdde908ffeeb95585d4b7
bstarsh
CRC32
SHA1
MD5
72752fe8
8c7896082c4cbd2b2232df629ab0dc38af7d9955
8a8cf257ce27c4b37fa8d5e736e619f5
bstars
CRC32
SHA1
MD5
ccda2b98
6effca7fe7629fe96c58d11c803a2f378e084655
01d4efa3c62b2bc65f881884078f0c33
bstars.zip
CRC32
SHA1
MD5
38f82b2f
f330f156eb3e4d63b378d6f8dfcacbaf726440d0
5ac446a0b44a69ef16c363d9bccb0a74
Add medias to this Game
Other games
Informations
Resolution
Resolutions must match the following format:
[H.Res.]x[V.Res.] [V.Freq.]
Examples:
320x224 50.12
1280x720 60
286x228 59.1245

Language
You want to help the community ?
All the medias were created by the HFSPlay community. We are always looking for help to create quality content.