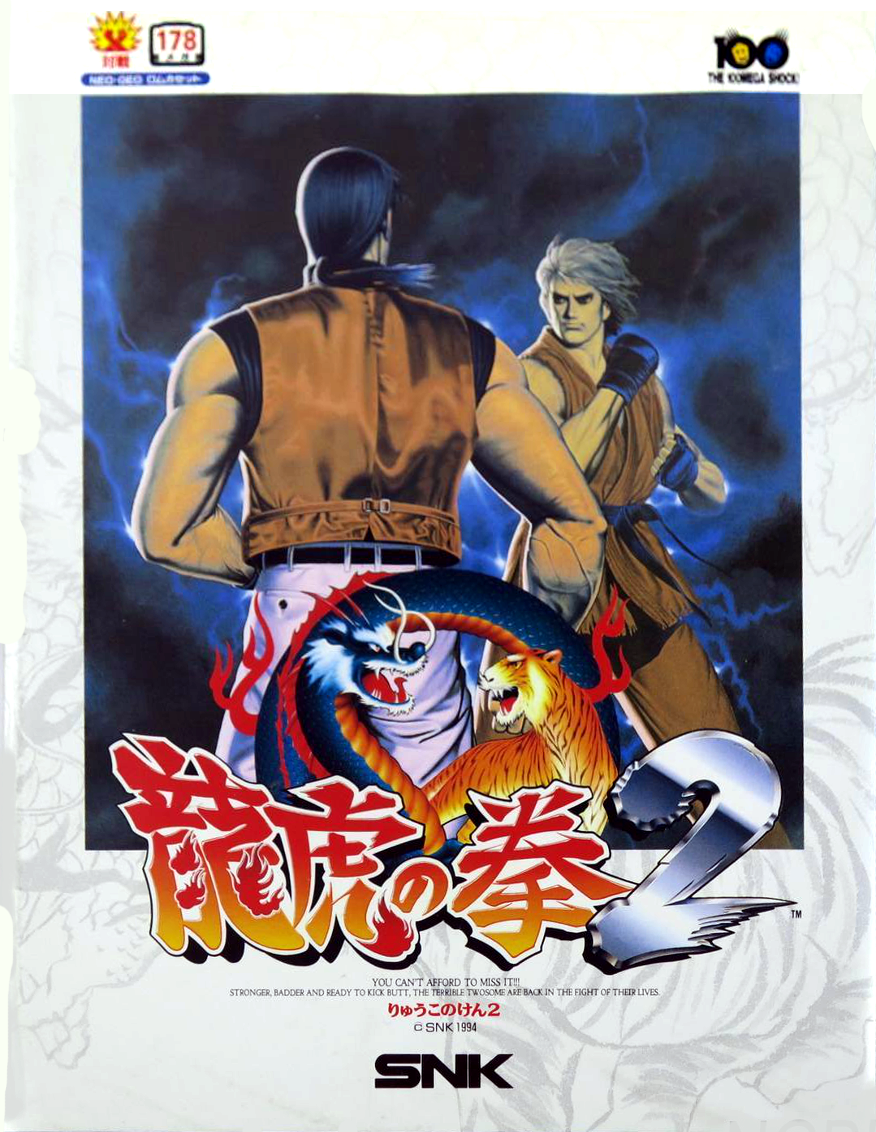 Art of Fighting 2 / Ryuuko no Ken 2
The second installment in the AoF series added the "rage gauge"; similar to the "spirit system" of its predecessor, it limited the use and effectiveness of special attacks.
The game's story is set a year after the original. Geese Howard, a rising star in South Town's criminal underworld, calls fighters to the city for a new tournament, "The King of Fighters." Howard was the final boss and series villain of SNK's other fighting game franchise Fatal Fury (though he is a secret boss in this game), whose story took place over a decade after the events of Art of Fighting.
Art of Fighting 2 was the only time Yuri Sakazaki was a playable character in the series. It also marked the only time that she donned her trademark outfit, which was made famous in The King of Fighters series. This game also marks the debut of Takuma Sakazaki without his Mr. Karate persona, as well as Eiji Kisaragi, who both appear in the King of Fighters series. Ryuhaku Todo, the first boss in the original AOF, is the only character dropped; all characters are playable from the beginning. The final boss is always Mr. Big, though as mentioned earlier, an extra match will be played against Geese Howard if the player unlocks him through good performance.
This game is also notorious for its difficulty, with it being referred in many fighting circles as having some of the toughest opponent AI in a fighting game.
Médias
Hash
Filename
Hashes
aof2
CRC32
SHA1
MD5
fd5fcc6e
3a67def94e5c45d890272670d81b9a8745afdb35
317f7fd0aa42ab51104732b55ae84a7e
aof2
CRC32
SHA1
MD5
5be820b8
c75d01e415e37e50c68710d190cc3263a10ff527
b98a1638454b31426fdd6caf773a8e22
aof2a
CRC32
SHA1
MD5
4b374682
95e13200e169229dca61646a5c7a0184a44e9008
ff8f6b48c176f51b69fe68eb735af7cc
aof2.zip
CRC32
SHA1
MD5
ce625215
96ccd6e19012aac0102d6d6ce9b6f2fe5fd9d1fe
b3cd2d6607a2d55be9ee062cd5b3a47c
Add medias to this Game
Other games
Informations
Resolution
Resolutions must match the following format:
[H.Res.]x[V.Res.] [V.Freq.]
Examples:
320x224 50.12
1280x720 60
286x228 59.1245

Language
You want to help the community ?
All the medias were created by the HFSPlay community. We are always looking for help to create quality content.