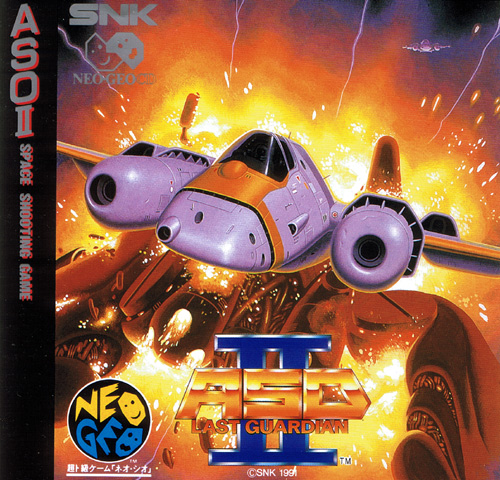 Alpha Mission II / ASO II - Last Guardian
Alpha Mission II (also known as ASO II: Last Guardian, its Japanese title) is a vertically scrolling full screen shoot 'em up released by SNK in 1991 for the Neo Geo arcade and home systems. It was later released for the Neo Geo CD in 1994 and for the PlayStation Portable in 2010.
The player controls a fighter spacecraft (Armored Scrum Object) and can shoot enemies in the air, bomb enemies on the ground, collect power-ups, and defeat bosses to advance levels.
Médias
Manual
Alpha_Mission_II_1994_SNK
Hash
Filename
Hashes
alpham2
CRC32
SHA1
MD5
96eb297b
41e03657509ecda0a161c69cb9287cd5fd883c43
3505b4d50994ff26fa7206ec1083a740
alpham2
CRC32
SHA1
MD5
68435eae
f0ad157a818c24012a08735718cc73b5c473a68f
db1aa6fc388cc61c16c51ca3145334b9
alpham2p
CRC32
SHA1
MD5
4b713dba
84f5592d8730f4a30c9dc0121fa8952525135d77
6fc04e3a6e2b8a9d9dda47955cd1a190
alpham2.zip
CRC32
SHA1
MD5
372acd8e
d581234304ed12a98972d9bf5546f106282594cf
2edb925d34e087e6adce1ab767c5bd12
Add medias to this Game
Other games
Informations
Resolution
Resolutions must match the following format:
[H.Res.]x[V.Res.] [V.Freq.]
Examples:
320x224 50.12
1280x720 60
286x228 59.1245

Language
You want to help the community ?
All the medias were created by the HFSPlay community. We are always looking for help to create quality content.