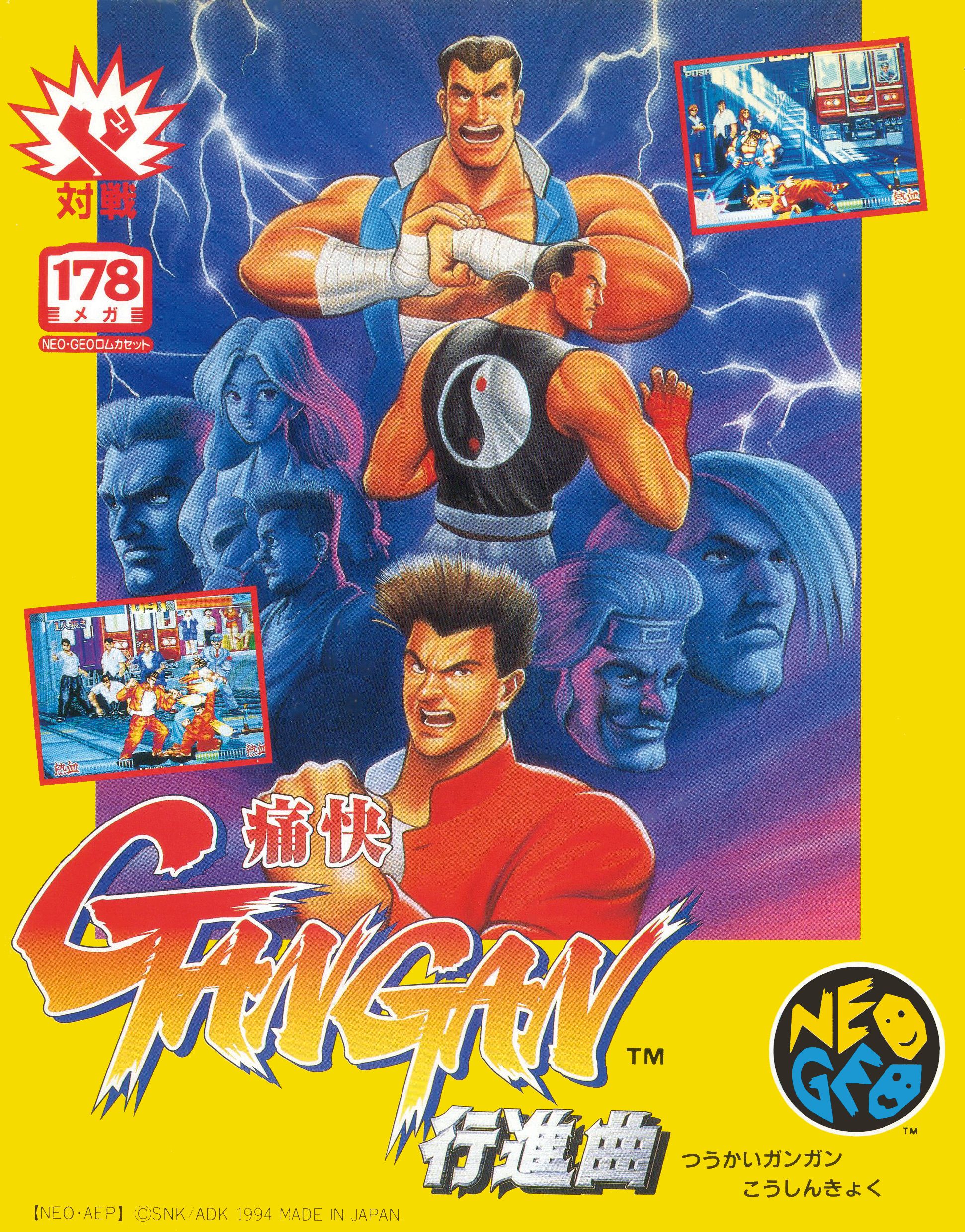 Aggressors of Dark Kombat / Tsuukai GANGAN Koushinkyoku
Aggressors of Dark Kombat is another one-on-one street fighting beat 'em up from the Neo-Geo's seemingly endless library of fighters.
It pits 8 fighters of different styles and strengths against each other in a tournament to see who's the toughest mofo on the streets of Tokyo. Your objective as usual is to deplete your opponent's health bar within the time limit by using your basic attacks and special moves (triggered by specific controller motions) while avoiding his moves and attacks.
Unique to Aggressors of Dark Kombat is the combination of traditional side-scrolling beat 'em up elements, meaning characters can freely move in an isometric space instead of being restricted to a single plane of movement. Weapons and throw-able items are usually thrown into the arena by the crowds and you can pick them up and wield them for added damage. Additionally, matches are 1-round only affairs, with an extended multi-layered health bar that allows for longer rounds than usual.
Médias
Hash
Filename
Hashes
aodk
CRC32
SHA1
MD5
1f08ebb0
5216ef74a05db2b71602feed1c455d659d445607
c51d3fff4e6b7254335d17dc7cdcc13b
aodk
CRC32
SHA1
MD5
17303ce0
3e0c64f4ce186901f5f498e3e7064e2ff1b120f9
72c0271a7b34b9da155765e3d4cf3102
aodk.zip
CRC32
SHA1
MD5
2558e6e6
34498e505d2c3e022d111ad33d7321c1e8c8920a
b7cee6bdf8984a4f20965f0580172999
Add medias to this Game
Other games
Informations
Resolution
Resolutions must match the following format:
[H.Res.]x[V.Res.] [V.Freq.]
Examples:
320x224 50.12
1280x720 60
286x228 59.1245

Language
You want to help the community ?
All the medias were created by the HFSPlay community. We are always looking for help to create quality content.