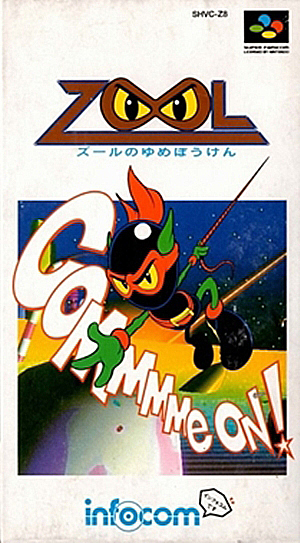 Zool: Ninja of the 'Nth' Dimension
3
NINJA BATTLES IN THE "Nth" DIMENSION An interstellar dweller is about to hit your Super NES. He's Zool, the defender of the Nth dimension (your imagination), and a thorn in the side of Krool, his arch enemy. Battle your way through six worlds and a multitude of Krool's armed and dangerous minions. Keep the gateway to your imagination open. Way weird! Way fun!
Médias
Video
Wheel
Zool - Ninja of the 'Nth' Dimension (Europe)
Hash
Filename
Hashes
Zool - Ninja of the 'Nth' Dimension (Europe)
CRC32
SHA1
MD5
8ff59faf
f04e9540b571d6f5f5caee2472b42ec5c87f8504
50e65cddb8e30a1cf33c99bdb2f333fc
Add medias to this Game
Other games
Informations
Resolution
Resolutions must match the following format:
[H.Res.]x[V.Res.] [V.Freq.]
Examples:
320x224 50.12
1280x720 60
286x228 59.1245

Language
You want to help the community ?
All the medias were created by the HFSPlay community. We are always looking for help to create quality content.