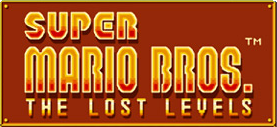 PowerFest '94: Super Mario Bros.: The Lost Levels
5
One of the three Super Nintendo Entertainment System games (Super Mario Bros.: The Lost Levels, Super Mario Kart, and Ken Griffey, Jr. Presents Major League Baseball) from Nintendo PowerFest '94, a 1994 Nintendo-promoted video game competition. Originally released in Japan as Super Mario Bros. 2, this game has previously made only brief cameo appearances in the Western hemisphere. Now available on the Virtual Console in all of its original splendor, Mario fans will appreciate the familiar look and feel of the game, while finding that its updated game play creates an entirely new challenge. No longer content just to wear different-colored overalls, Mario and Luigi also possess different skill sets (Mario can stop quicker, while Luigi can jump higher). In addition to the classic enemies already known to fans worldwide, there are also Poison Mushrooms, backward Warp Zones, and the occasional wind gust (which can help or hinder your progress) to take into account. And if thats somehow not enough, expert players can go looking for the games secret worlds. So get ready to put your Mario skills to the ultimate test, and save the Princess again. Just dont be surprised if shes in another castle!
Médias
Video
Wheel
PowerFest 94 - Super Mario Bros. - The Lost Levels (USA)
Hash
Filename
Hashes
PowerFest 94 - Super Mario Bros. - The Lost Levels (USA)
CRC32
SHA1
MD5
ce2f061f
a6309e420065caf8ed4e8e4017950f4b281a99d0
17061512970e5eb876be4c4d03fc727e
Add medias to this Game
Other games
Informations
Resolution
Resolutions must match the following format:
[H.Res.]x[V.Res.] [V.Freq.]
Examples:
320x224 50.12
1280x720 60
286x228 59.1245

Language
You want to help the community ?
All the medias were created by the HFSPlay community. We are always looking for help to create quality content.