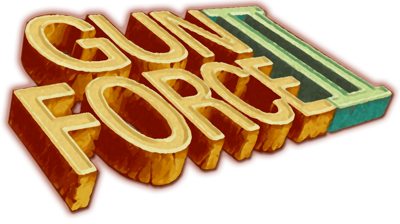 Gunforce II (Geo Storm in Japan) is a run and gun video game developed and published by Irem Corporation in 1994 for arcades. It was Irem's last arcade game.
This game was created by the same staff which would later form Nazca and is considered the spiritual predecessor to the Metal Slug series.
Gunforce II plays much like other run and guns, where you control your character and must move through the stage while shooting down enemies. The character uses two guns at the same time, which fire at different angles each. You can pick up special weapons with limited ammo, which will replace one of the guns. Scattered along the stages are many vehicles, eleven in total, which the player can ride and use against the enemy forces. However, most of them don't provide protection for the player. Along the way the player will also find female hostages which can be rescued, though they only serve to add to the player's score at the end of a stage.
Médias
Video
Hash
Filename
Hashes
gunforc2
CRC32
SHA1
MD5
81e74c06
41e46f87db5bf237852b94e7fa33071194fa7b9d
ba1e00531bc618ff3f319e90b2ad6a0f
Add medias to this Game
Other games
Informations
Resolution
Resolutions must match the following format:
[H.Res.]x[V.Res.] [V.Freq.]
Examples:
320x224 50.12
1280x720 60
286x228 59.1245

Language
You want to help the community ?
All the medias were created by the HFSPlay community. We are always looking for help to create quality content.