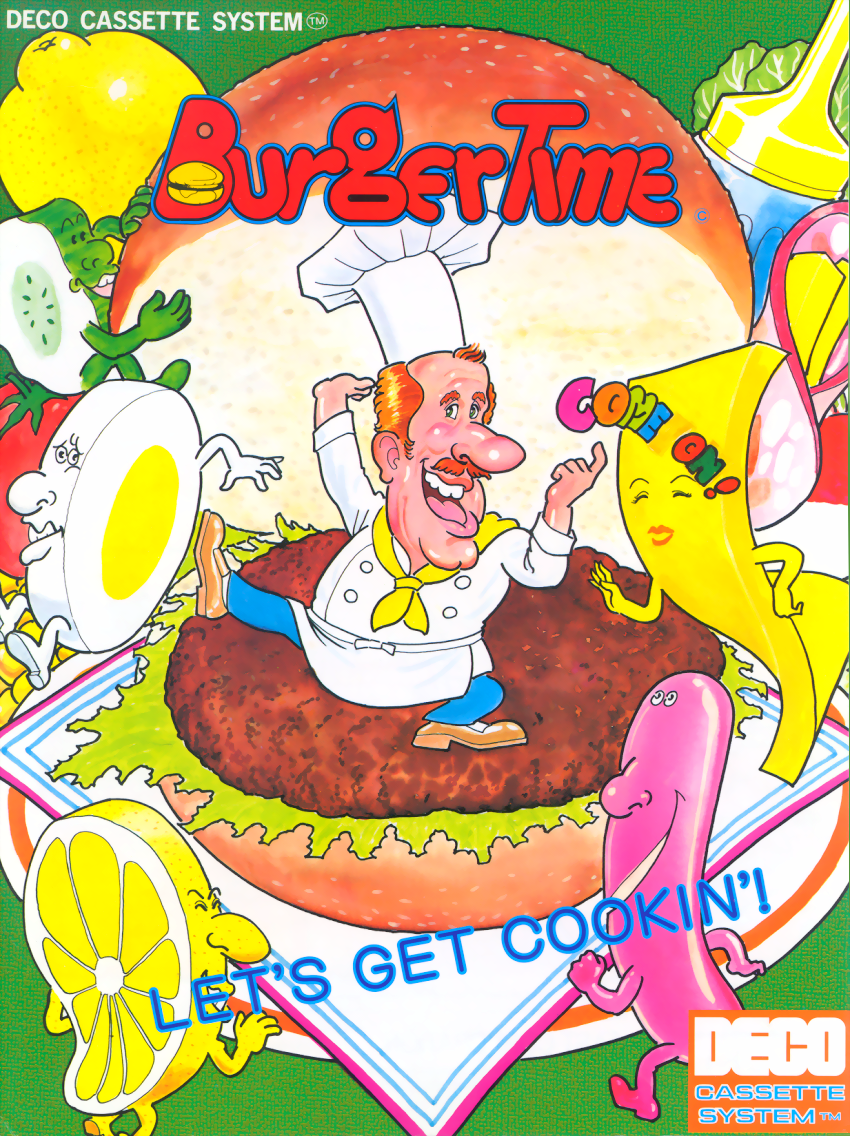 Burger Time
BurgerTime (バーガータイム, Bāgātaimu) is a 1982 arcade game created by Data East initially for its DECO Cassette System. You play as Chef Pepper and your goal is to make giant hamburgers while evil eggs, sausages and pickles chase you around the game area.
To properly make a hamburger you must assemble all of the ingredients together, dropping them from higher up onto the burger area below. To actually do this you have to let Chef Pepper step over every burger ingredient. As soon as an ingredient (a piece of lettuce for instance) has been stepped on, it will fall to the level below. Falling food will squish any enemy following you and will also "bump" any other ingredient below it farther down. Also, as an emergency defense against the enemy food, you can collect pepper shakers which will allow you to puff out a small pepper cloud that will momentarily stun enemies, allowing you to walk past them.
Higher levels result in new level design, faster enemies and more ingredients to assemble.
Médias
Video
Hash
Filename
Hashes
cbtime
CRC32
SHA1
MD5
c06280f6
1799c72dd2e15ce91508f1b8d3f73c0ed1926b68
a3fefaca6f6c63c0f1718c081e004eff
chamburger
CRC32
SHA1
MD5
db749ad1
4cfe8b5dccf1baa9b22ea48c034606aab231be41
693e6c2de1830c4cb8a02ec1411a0489
Add medias to this Game
Other games
Informations
Resolution
Resolutions must match the following format:
[H.Res.]x[V.Res.] [V.Freq.]
Examples:
320x224 50.12
1280x720 60
286x228 59.1245

Language
You want to help the community ?
All the medias were created by the HFSPlay community. We are always looking for help to create quality content.