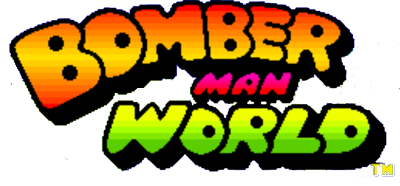 Bomber Man World / Atomic Punk 2 / New Dyna Blaster Global Quest / New Atomic Punk Global Quest
Despite his defeat and reform last time in Bomberman Arcade, King Bomber could not accept the peaceful life, and has returned to his malicious ways. Not only has he called upon his armies to rise across the planet, but he's taken over the United Nations bulding!
The Bomberman brothers set out on a globe-trotting quest to end his villainous antics.
It follows much the same Bomberman formula, defeat enemies to clear the stage, face a boss at the end of each world, but introduces more enemies, new power-ups, and enhanced 4-player support. All four players can now work together in the Normal Game, or duke it out in the Vs. Super Game!
Médias
Hash
Filename
Hashes
bomblord
CRC32
SHA1
MD5
59033608
282f7e96f537c80f06ab1484cff12a7053d00b4a
c011feef4d8f2f8ab681be0f554d7fa9
bbmanwj
CRC32
SHA1
MD5
cc49ee55
f56abc73cde5ac5e4a0ca7df52cb1e157dedd8c6
e15c66d1bc86d432cf9eabd4d0c09bf0
bbmanwja
CRC32
SHA1
MD5
43ca10e1
b81a3d6410826a64d91d56e9c47ebd6bc1fc6a01
4b9367810a3fe8d35f1520475ea53115
bbmanw
CRC32
SHA1
MD5
f4e5469d
0c1e39242838238c87d6cef52f563ab66dfbe63d
81a9532c303dcbc758eec7c4ac5be827
newapunk
CRC32
SHA1
MD5
64499a3e
ab1410b4dae32edf156d0bf98fe1dc0424e6cc20
32b432cf9d6b364766a57d61d408a299
Add medias to this Game
Other games
Informations
Resolution
Resolutions must match the following format:
[H.Res.]x[V.Res.] [V.Freq.]
Examples:
320x224 50.12
1280x720 60
286x228 59.1245

Language
You want to help the community ?
All the medias were created by the HFSPlay community. We are always looking for help to create quality content.