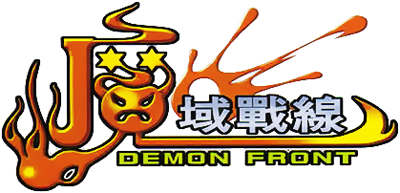 Demon Front
The gameplay is similar to Metal Slug and other run and gun games. It lacks the vehicles that were an element of Metal Slug. In addition, there are some unique features in the game. Each of the four characters brings along a pet, which can be sent to attack enemies or used as a shield. There are three buttons: Shoot, jump, and shield. Holding the shoot button charges your pet, and when released the pet launches a stationary devastating attack for a few seconds. The shield button converts the pet into a shield that is permanent - until you press the button again or it takes enough damage to disappear. Melee attacks and pet attacks release hearts which boost your shield power. Characters include Jake and Sara, two regular humans from Earth. Dr. J, a scientist, and Maya an ape. All characters largely play the same.
Médias
Artwork
Flyer_Demon_Front_02
poster
Theme
Video
Hash
Filename
Hashes
dmnfrnt
CRC32
SHA1
MD5
6b03c487
d19bc970daa4c3da317a42aec7535fe11c49b358
d6b295bf71ecbe3994b6de923044ff61
Add medias to this Game
Other games
Informations
Resolution
Resolutions must match the following format:
[H.Res.]x[V.Res.] [V.Freq.]
Examples:
320x224 50.12
1280x720 60
286x228 59.1245

Language
You want to help the community ?
All the medias were created by the HFSPlay community. We are always looking for help to create quality content.