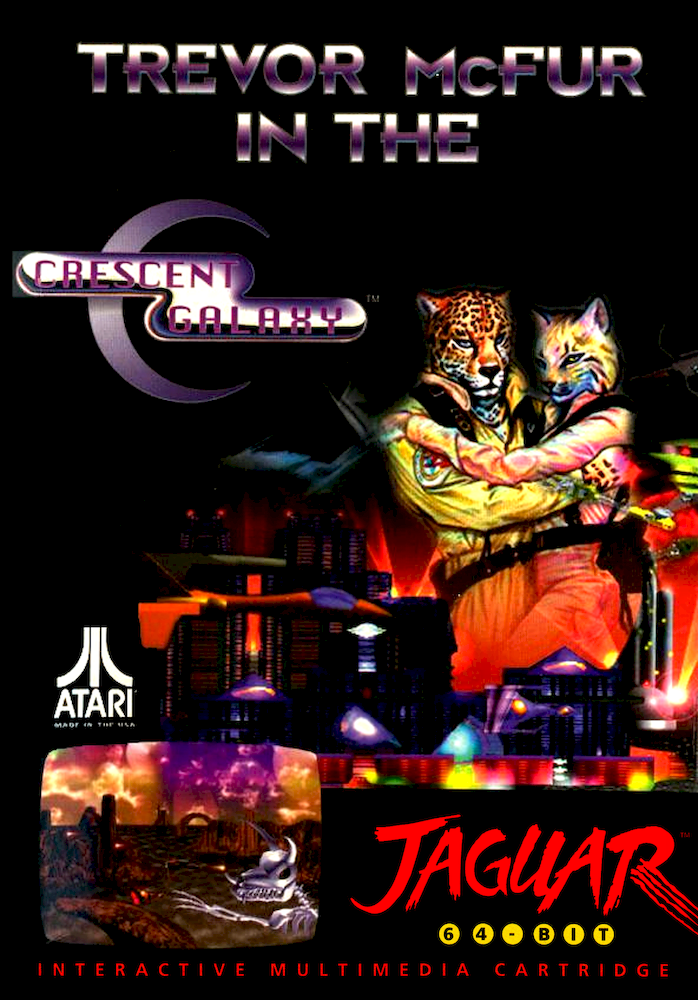 Trevor McFur in the Crescent Galaxy
Trevor McFur in the Crescent Galaxy[a] is a horizontally scrolling shooter video game developed by Flare II and originally published by Atari Corporation exclusively for the Atari Jaguar first in North America on November 23, 1993. It was, aside from the pack-in game Cybermorph, the only launch title for the system in the region. It was also released in Europe on June 27, 1994 and finally in Japan on January 13, 1995 where it was published by Mumin Corporation.
When the Crescent Galaxy has been conquered by a strange entity, the main armada units from the interplanetary defense squad Circle Reserves were dispatched but almost all of them were nearly destroyed when battling against it. Trevor McFur, a corporal from the reserve alongside his partner Cutter, warp to their home in order to counterattack the unknown entity, referred only as Odd-It and its own armada to free the planets and the galaxy from his graps, before it makes everything odd like himself. Being one of the first titles released for the system, Trevor McFur in the Crescent Galaxy is believed to have been originally in development for the unreleased Atari Panther console and was moved to the Jaguar when the project was terminated.
Médias
Video
Rom
Filename
Hashes
CRC32
SHA1
MD5
55ed987a
e0915c4cfe4173b7bc8efc851159073e6db437b5
35b631f1581afc21d039ed14a203906e
Add medias to this Game
Other games
Informations
Resolution
Resolutions must match the following format:
[H.Res.]x[V.Res.] [V.Freq.]
Examples:
320x224 50.12
1280x720 60
286x228 59.1245

Language
You want to help the community ?
All the medias were created by the HFSPlay community. We are always looking for help to create quality content.