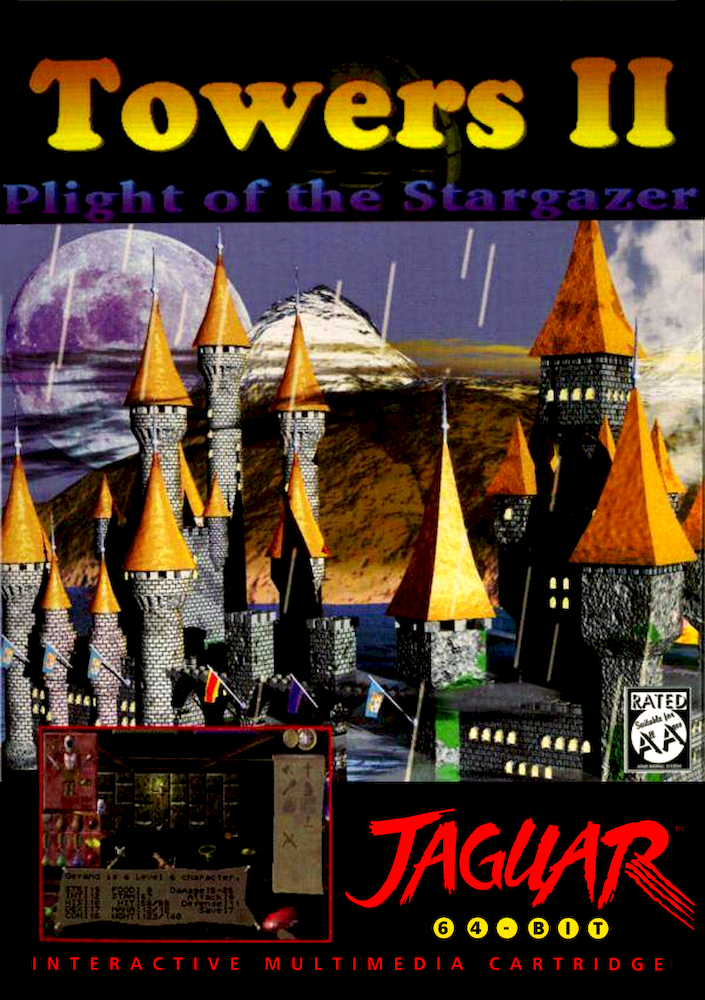 Towers II : Plight of the Stargazer
Towers II: Plight of the Stargazer is a first-person role-playing video game originally developed and published by JV Enterprises for the Atari Falcon in 1995. It is the sequel to Towers: Lord Baniff's Deceit, which was first released as a shareware title on the Atari ST in 1993 and later ported to MS-DOS and Game Boy Color.Set several months after the events of the original game, the story follows the original crew of four adventurers from the previous title after landing in Lamini, who are now tasked by people of the island to send one of their crew to stop Lord Daggan inside his tower, after becoming enraged with the questioning of his doings. Initially released as a commercial title before becoming a shareware release for the Atari Falcon, Towers II: Plight of the Stargazer was later ported for the Atari Jaguar on December 9, 1996, becoming one of the last licensed releases by Telegames for the system after being discontinued by Atari Corporation, who merged with JT Storage in a reverse takeover. It later received a port for Windows that was co-published by Intermark Corporation and Telegames on October 13, 1997.
Médias
Video
Add medias to this Game
Other games
Informations
Resolution
Resolutions must match the following format:
[H.Res.]x[V.Res.] [V.Freq.]
Examples:
320x224 50.12
1280x720 60
286x228 59.1245

Language
You want to help the community ?
All the medias were created by the HFSPlay community. We are always looking for help to create quality content.