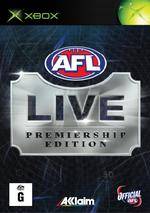 AFL Live: Premiership Edition
Following on AFL Live 2004, AFL Live: Premiership Edition boasts the latest team lists, added gameplay features, and unlockable content like videos from the 2003 season. Also new is the inclusion of the "Wizard Home Loan Club", a pre-season competition with knockout-matches.
Based on Australian Rules Football, the game attempts to recreate the experience of the real games. Users can set up a single exhibition match, or play through an entire season with their favourite team. Features commentary from experts such as Dennis Cometti and Gerald Healy.
Informations
Resolution
Resolutions must match the following format:
[H.Res.]x[V.Res.] [V.Freq.]
Examples:
320x224 50.12
1280x720 60
286x228 59.1245

Language
You want to help the community ?
All the medias were created by the HFSPlay community. We are always looking for help to create quality content.