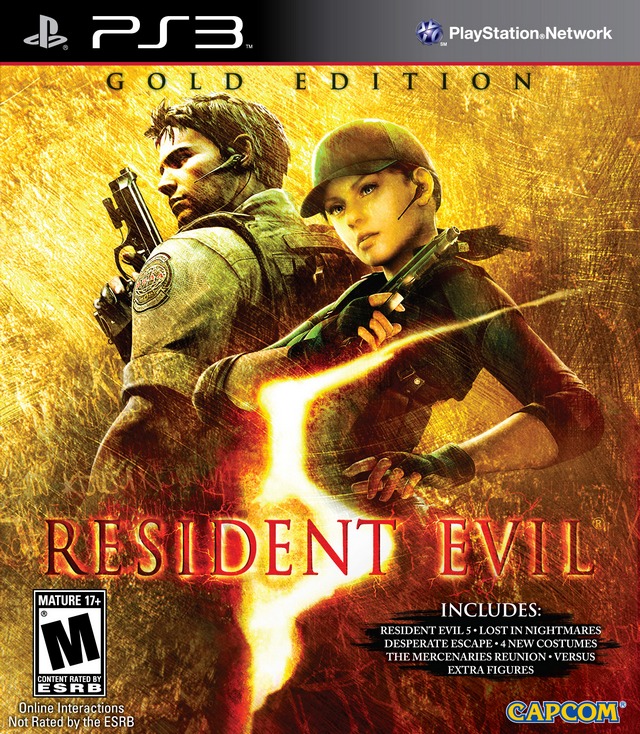 Resident Evil 5: Gold Edition
Previously only seen during cut scenes of the original RESIDENT EVIL 5, the first new episode titled "LOST IN NIGHTMARES", finds BSAA agent, Chris Redfield, working with his partner, Jill Valentine, as they investigate Ozwell E. Spencer's hideaway. Spencer, the evil mastermind and co-founder of Umbrella Corporation, has been hiding a new evil deep within the basement of his mansion. Chris and Jill discover this grotesque evil standing in their way as the two enter deeper into the catacombs beneath the mansion. Simultaneous with the release of "LOST IN NIGHTMARES", new costumes for Chris and Sheva will be made available, allowing the player to experience RESIDENT EVIL 5 with a fresh new look and feel through both game play and cut-scene playback. A new refresh of Mercenaries Mode, " THE MERCENARIES REUNION", gives players new playable characters and weapon load outs which provide players additional challenges as they aim to shoot down as many enemies as they can within a limited time. Each piece of downloadable content will contain two new playable characters. The GOLD EDITION will feature all eight.
Informations
Resolution
Resolutions must match the following format:
[H.Res.]x[V.Res.] [V.Freq.]
Examples:
320x224 50.12
1280x720 60
286x228 59.1245

Language
You want to help the community ?
All the medias were created by the HFSPlay community. We are always looking for help to create quality content.