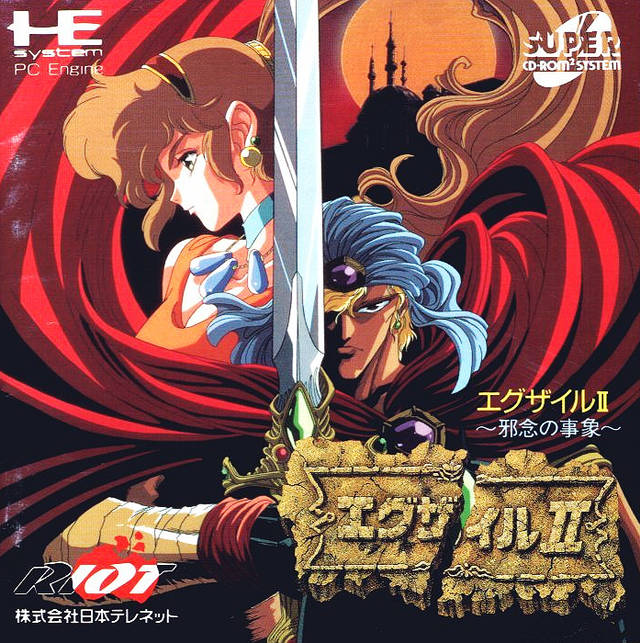 Exile II: Janen no Jishou
Exile: Wicked Phenomenon is a sequel to Exile. The Japanese titled release is Exile II: Janen no Jishou (?????II ???????). The game follows the adventures of the series' protagonist, the Middle Eastern assassin. Separated from his companions in the end of the previous game, Sadler encounters a mysterious prophet who tells him a curse has fallen upon Baghdad, and the destiny of the world lies in his hands. Sadler travels to Baghdad, where he encounters old friends and old enemies, and learns about a great threat that stirs hatred and turns people into monsters.
Like its predecessors, Exile: Wicked Phenomenon is an action RPG. The game is viewed from top-down perspective when exploring towns and other peaceful locations, but switches to side-scrolling view for hostile areas. The player controls one character at a time, but is able to switch between Sadler and his friends (Rumi, Kindi, and Fakhyle), whenever they travel together. Each of the characters has advantages and disadvantages (strength, ranged weapons, spells, limited mobility, etc.). Characters gain experience points and money upon defeating enemies. Leveling up is automatic, increases the characters' parameters and hit points. In towns, characters can buy and equip weapons, armor, as well as healing and supportive items.
Médias
Video
Add medias to this Game
Other games
Informations
Resolution
Resolutions must match the following format:
[H.Res.]x[V.Res.] [V.Freq.]
Examples:
320x224 50.12
1280x720 60
286x228 59.1245

Language
You want to help the community ?
All the medias were created by the HFSPlay community. We are always looking for help to create quality content.